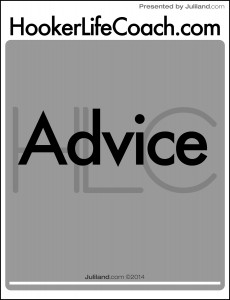 I have been a hooker for 4 years running. Wow, time flies! I started brand new, not knowing anything. Now I have gathered some insight into how this crazy industry functions and would love to share my top tips with you so you can go out and crush it.
Save your $$$ – Some things are way easier said than done. But yes, the old adage holds true. Work hard, make your money, and stash some if it way and DO NOT touch it. I struggled with this and learned the hard way I should have done this from the beginning. I suggest putting half of everything you make into a savings account or stashing the cash into a safety deposit box in a bank.
Hygiene is very important – I hear horror stories of guys seeing grrls who do not wash up or take care of themselves. Yuck! My gag reflex cannot take it. Take a shower, shave and always be ready and presentable. Men will appreciate it and want to return for seconds.
Do not undervalue yourself – Advertise yourself at the rate you want. Aim high and deliver what you promise. You are worth it. The business will come.
Do not put all your eggs in one basket – Work with a few agents and advertise on as many sites as you like. I started on Humaniplex and TER, which are great bases. I now operate on a handful of sites and am with a few different agents. They all know my system and are cool with it. Be open and honest about it. This creates steady business.
Strive for a list of regulars – Having a few guys that you see regularly makes you feel a small sense of relief. It is income to count on. How great is that?! This will happen if you are consistent and do your best at every appointment. Treat them special and go the extra mile. They will return the favor by coming back. It pays off.
Take care of yourself – Take a few days off and go to the spa if you feel overworked. Don't burn yourself out. You won't function at full capacity. I take a spa day every couple weeks. Cleanses my pores and calms my mind so I feel refreshed.
Personal assistants are super fantastic – This is a personal choice but I think having a trusted booker/assistant makes life so much easier. I am free to have the time to do art and enjoy myself. And they make sure your schedule is all up to date.
Find good photographers and build a solid portfolio – Spend the time and money to have a solid portfolio of pictures. Looking more professional will bring you better business, think about it. A lot of grrls post a bunch of selfies. A few are okay, but a couple albums of really good pictures will go a LONG way. Even if you pay out of pocket for a couple photoshoots with professional photographers you like. For your image it is worth the investment.
Always check references – Make sure you get 2 okays from grrls before you see a client. Safety first always.
Keep your sex kit handy – Put a bag in your car with all the necessities: condoms, lube, wipes, washcloth etc. You never know when a last minute appointment will pop up.
Be safe out there and always do your best!