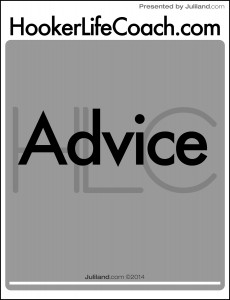 OK, you've decided to step into the world of "privates", escorting, prostitution or what ever label you wanna put on it. The label I hear a lot these days is "provider". That seems to be the latest label that grrls are working with. What ever you like is good by me. I just wanted to give you 10 simple things to think about before you go down this road. They are what I call "the basic guidelines", not rules, but guidelines. Just think before you decide anything and remember educated decisions rule…
Remember its all business – Never lose site that its all about money and noting but money. Make sure you don't get lost in all the bullshit. Its the business of sex and NOT the sex business. Your product is YOU and you need to take care of that product.
Its Illegal – NOT everywhere, but most places prostitution is illegal. Don't be stupid and think its not. Be smart & very careful.
Have a plan – I don't care what you do in life, always have a plan and that goes for escorting as well. The basic questions… Is it safe? Do I really need to do this? Do I like sex? Who can I talk to about this? Am I prepared physically, mentally and emotionally? What is my vision for my life?
Ask for help – if you don't know something… Ask for help. Do your research and make educated decisions. If you don't know who to talk to… Find someone. Its not as hard as you think, but be careful who you trust.
Money – if done right this can be a very lucrative career. Save your money! Be smart with your money. The goal is to work less and make more. Being smart with your money is key!
Be prepared for anything – I'm not talking about sex, but being prepared does apply to it. I'm talking about everything. Planning, doing your homework and being aware is another key to success.
Family & friends – in this day and age its almost impossible to keep anything a secret. The internet is everywhere, just assume everyone is gonna see everything. So be smart, be discreet as possible and don't be surprised if family & friends find out. Just be smart and handle it as best as possible.
Sex & fucking – Hopefully you love sex, cuz thats the business you have chosen. It helps if you really like it and have fun making a man feel good. Your job is simple… Make your client feel like he's the best fuck you've ever had! SO, it helps if you love sex and love to fuck. If not, learn to act like you do. :-)
Creepers – Yes, you will meet some serious creepers. These are the hobbiest who take this shit too serious and have very little self control. Just handle them as best as you can, but if things get stupid, get help! What ever is going on in their head is not normal and can be dangerous. PLEASE be safe always.
Be nice always – well, this one is pretty obvious, plus if you a fan of Juliland.com, you know that's rule number one. Just treat everyone the way you want to be treated and always take the high road. If someone does not treat you with respect… Avoid the drama and walk away. MOST of all be nice to yourself please. Treat yourself with TLC always.