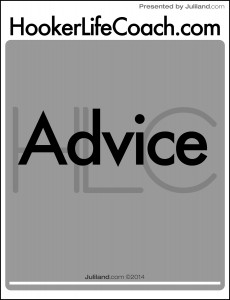 You attract what you give out to the world. So be all about quality. Men with real money like a woman who carries herself well and has confidence. Uber sexy. If he invites you to a nice dinner and you would like entertain the offer, dress semi-casual. For goodness sake do not dress like a cheap $50 street hooker. A fishnet top, neon booty shorts and stripper platform heels will no question make the guy cringe and whimper in embarrassment. Just say no! Class it up. You don't even have to wear a dress and heels EVERY time you go out with a guy or show up at a client's hotel or place of residence. Just look nice in a pretty top, pants and sandals. A beautiful woman always turns heads. You may be acknowledged with unwanted attention – but hey, you look hot! Embrace it.
You will attract clientele based on how you present yourself. Of course one would gravitate toward wanting to be in the high-end, expensive sector of the "hooker world." Save those dollars and head to Nordstrom to buy a couple nice outfits to wear to your meetings. The investment is worth every penny. And who doesn't love a nice shopping day! You can even have a nice crepe and latte for lunch at their café. So yummy! Sorry, I got sidetracked. Practice good hygiene. Being nice and fresh is, well, refreshing.
Manners are also a big part of being a proper, sophisticated female. Always say please and thank you. Such simple values that would seem innate to most but unfortunately are at most times forgotten. If the client takes you out to a nice restaurant, a simple email the following day saying thank you will suffice just fine. And it will earn you brownie points for sure.
Remember, think quality. And think big! Look good and attract the guys with real money. Not the amateurs.
Have fun!!