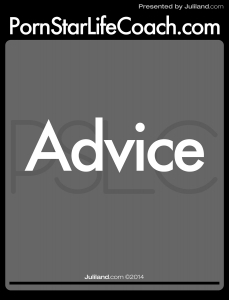 So, now I am in to my first year of working in porn…and Ive made mistakes. Lots of them. It is difficult being a new comer with no one to help offer you good solid advice on the do's and dont's of porn. I needed a mentor, someone that I can look up to, I had no one but myself. If you think you are alone, youre not. Here is some of my advice to newbies from my previous experiences:
Is this really what you want to do? Realize that once it is on the internet or DVD, that is forever. If you feel that it might hurt your future for whatever reason it may be then this is not what you should be getting in to.
Agents. CHOOSE WISELY LADIES and do your research! Ask around, especially from people who have been in the business for a while. Get some sources and make comparisions. You want to make sure you pick a proper agent for your new career path.
What are all these papers I am signing? Wait!!! Stop! Are you really reading those contracts? Make sure you consult a lawyer before you initial or sign anything. Some agents will try to get you on a long term contract that is very difficult to get out of. You might have a large headache later when if decide to leave them later on.
First scene. It is okay to be picky here. Some girls like to start slow only doing solo or girl/girl. Others start doing boy/girl. Me, I did anal. Just make sure you work with your agent on what you really want to do and what other scene you plan on doing in the future.
Health and Hygiene. You are in an industry that exchanges body fluids with each other. Make sure you are hitting the gym every week, staying hydrated, showering, eating healthy and you are taking your vitamins. It is good to maintain to be clean inside and out!
How to act on set. 1) "Leave the drama at home" – seriously. No one cares. You are there to work, dont show up with bad attitude because that can become contagious. Time is money, do not fuck it up! 2) There is something you are not feeling comfortable about. You have a voice, use it! You should never feel uncomfortable on set and if you do CALL YOUR AGENT!
Male talent. Do not date your co-workers.