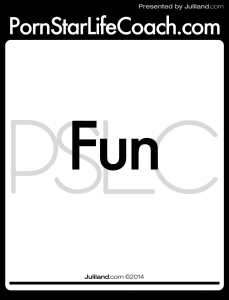 About a dozen regular guys ranging from high school teens to college frat types stood on the sideline of our roped-off beach area with their eyes glued to my every move as I did my job.  You would think I was a professional athlete commanding my body to move in some mind-blowing contortion, or exhibiting super human strength they could only dream of.  And although I moved like a wild cat, calculating distance and barking orders, my actions were far less strenuous than a jock's. But that didn't matter.  The boys looked at me with such envy I almost felt sorry for the drooling bunch.  In their eyes I was better than an athlete, had more juice than a rock star and to make it even better somehow had balls the size of grapefruits calling out to every hot babe on the sand! I was the complete chick magnet and they were just waiting for my next command.  Simply put, I was the coolest man on the beach – the most interesting man in the world (to borrow from the Dos Equis beer commercial).  And what I was doing held such an envious, rabid fascination it prompted one of the sun-baked, dropped-jaw spectators to yell, "Hey, dude, how do I get a job like yours?"
I snapped back, "Stay in school asswipe," just to rub it in.
Yeah it was cocky on my part.  But it's one of the perks you get when you're the man responsible for finding, posing and directing hot girls to be naked and have sex in men's magazine photo shoots and adult videos.  My admittedly unorthodox career has taken me from sex magazine editor to executive producer for Playboy's XXX movie division.  I've probably seen over 5,000 hot, young wannabe adult actresses naked over the years where my primary (and gloriously primal) duty was to choose beautiful women to have sex on camera.  All day long I'd have to pore over pictures and video clips of the hottest babes in Hollywood and from all over the country for that matter.  Blondes, brunettes, redheads, some dark, some light, some slim and tight, others curvy and voluptuous and all doing whatever it takes to make an impression on me  – the producer, the mac, the man,  – who would choose the lucky girl to do the nasty in the next film or photo shoot.
For decades my job was all about thinking like horny guys.  What type of girl turns them on?  What kind of sex do they want to see in print pages and on film?  And you're right it never gets boring.  A bit clinical some time, like asking a big-boob girl to move a little to the right so we don't see her stretch mark tracks from her low hanging size 40DDs.  And of course there were the occasional job hazards.  Anybody who has ever worked on a sex photo shoot (technical term: boy/girl) whether it be for still photos or video, knows that you're not considered a pro until you're "christened by fire."  In pro terms that means you got hit with the male actor's cum shot. In layman's terms you're almost gay.  If you were lucky you'd only get a slight splooge on your elbow. Those who really got blasted may be traumatized for a while, but at least have a great story to tell.
But sometimes the job gets downright dangerous, like when a jealous boyfriend finds out about his "secret" porn star girlfriend's real job and wants to know whom the fuckhead is who convinced her to get into porn.  Or the time our crew went down for college spring break in Panama City, Florida.  The mostly horny hotel guests dubbed us "the naked people" because we were normally escorted by a group of half-naked girls whenever we hit the pool and bar.  In a fit of drunken promotion we'd decided to send out a dozen topless models on motor scooters to hawk our magazines and to let the locals know the girls were in town.  Little did we know that the street we chose to ride down was letting out a busload of local church ladies.  The girls came flying by, scooters putting, their boobs bouncing and jiggling just as the pious group stepped onto the concrete.  One look at our topless emissaries and the church ladies let fly with screams of hellfire and brimstone.  "You are all going to hell you shameless girls," one woman yelled as she bent down, picked up a rock and hurled right at our convoy. Her gang of old biddies joined in and within seconds we were barraged with rocks and four-letter biblical screams that dented our rental car, not to mention bruising a few fine breasts.
OK, so by now some of you are bound to be haters, out of pure jealousy of course, but that's understandable.  The good news is I get it because I didn't always have this primo position. There were a lot of years that I slaved away just like most men out there trying to make ends meet and wishing I could do what I love and make money.  Be a gangster?  Nah, too much trouble.  Be an entertainer?  Nah, no real talent.  Be an athlete? Nah, way, way too lame.  So I asked myself what could a regular guy do to satisfy that male ego we long to fill since our long lost days of cowboys and superheroes and not settle for some weak-ass 9 to 5 hell job?  What did I love to do?  And then it hit me!  It was simple.  What I loved were beautiful women, especially without clothes! That was my calling.  That was what I'd decided to do.
So how'd I land such a sweet gig?  What's the secret to landing such a coveted spot?  Well it took a lot of hard work paying dues starting on what many people consider the bottom of the barrel in magazine publishing – men's sex magazines, which in publishing parlance are called "sophisticates," a sobering term so editors can tell people what they do without cringing.  And for a time it was learning the video game from the ground up (I literally held a camera under two people having sex while wiping ball sweat from my lens), and let's just say you're better off without the HD version of porn DVDs.  Ahh, but that was just foreplay.
Next time…This Job Sucks…In a Good Way!
By Bob Johnson
– Former Executive Producer for Playboy Entertainment.